Sunshower.io
Shine some sun on your cloud deployments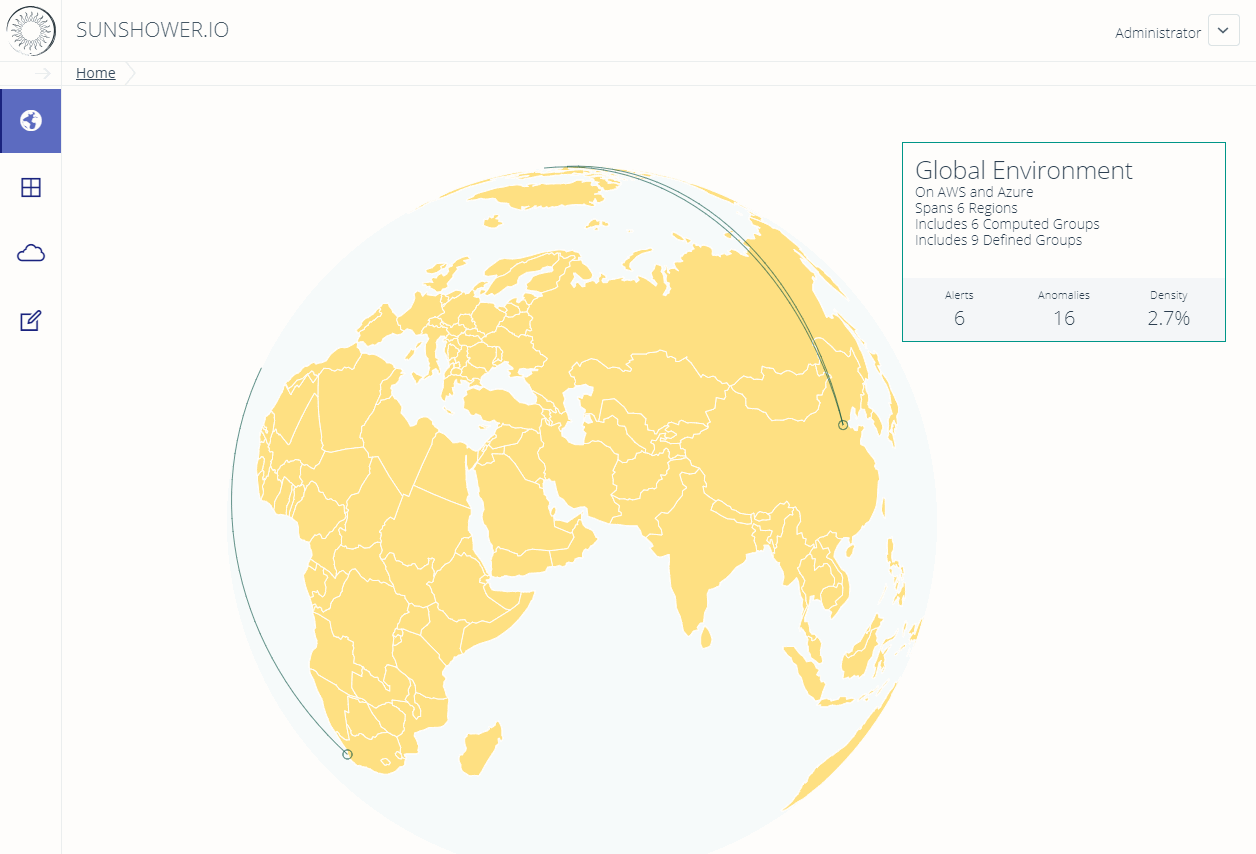 Beautifully Simple Cloud Management
Feel like you spend way too much time managing and navigating your cloud setup?
Tired of toggling between dashboards, wondering how everything fits together?
Ever looked at your current cloud ecosystem and wished it could be different?
Have you asked, Why can't I just...? or If only I could...?
Same here. We asked those questions all the time. So we developed something that can.
Low-code
Model and deploy your applications and infrastructure in seconds, without writing a line of code
Intuitive
Clearly see and manage your cloud landscape through our interactive visualizations
Multi-cloud
Uniformly administer infrastructure and security across public and private clouds
Troposphere
visual multi-cloud deployments
Deploy common applications in seconds from our community catalog
Compose and orchestrate complex and custom applications visually, without writing a single line of code
Export or build designed applications to cloud provider images, Packer files, or Docker files
Import and export any application to and from any supported format like Docker and Packer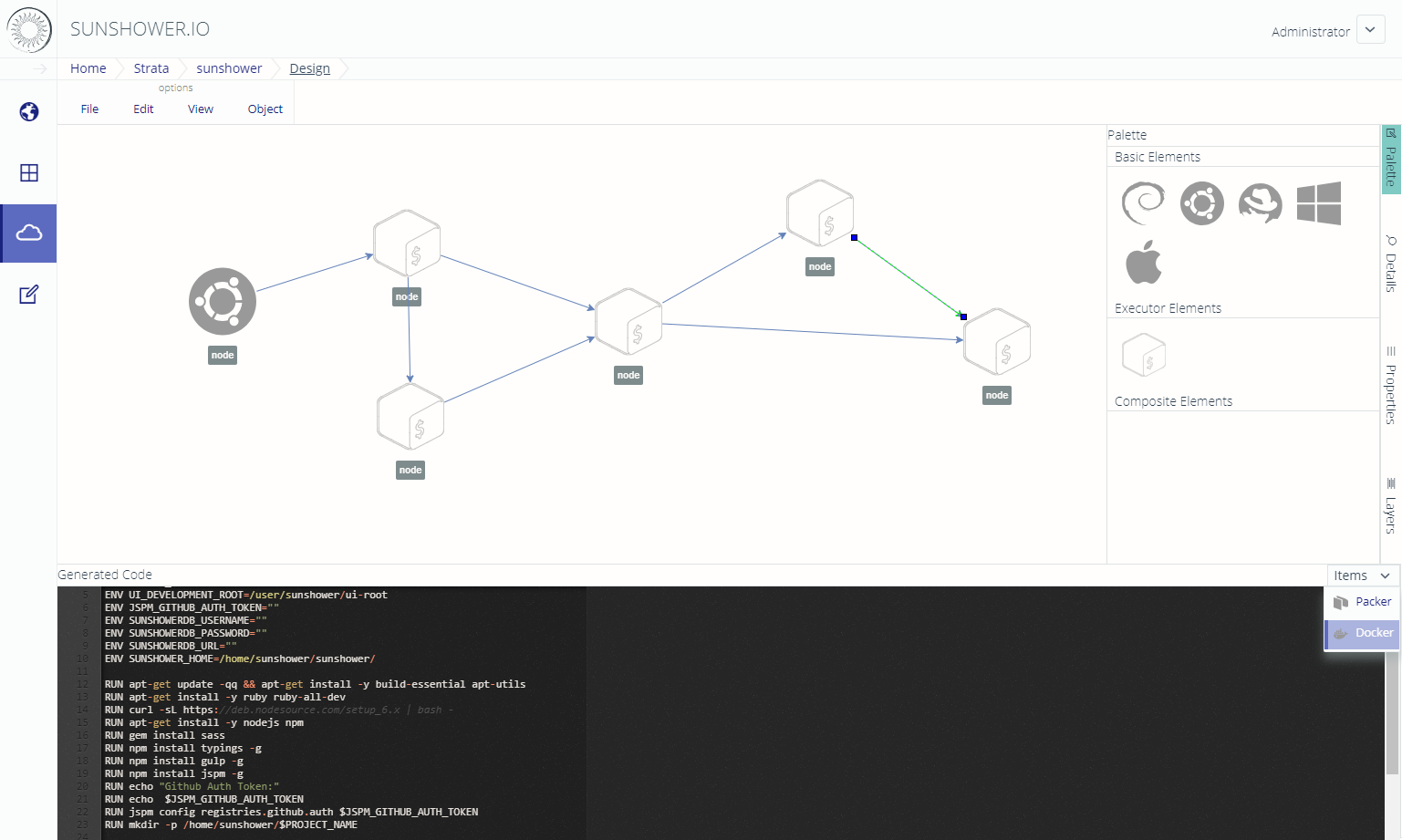 visual multi-cloud infrastructure
Deploy common infrastructure scenarios in seconds from our community catalog
Design and associate infrastructure components with just a few intuitive clicks
Export or deploy designed infrastructure via CloudFormation, ResourceManager, Terraform, or Sunshower
Compose infrastructure and applications into Kubernetes files, CloudFormation templates, or Docker Swarm files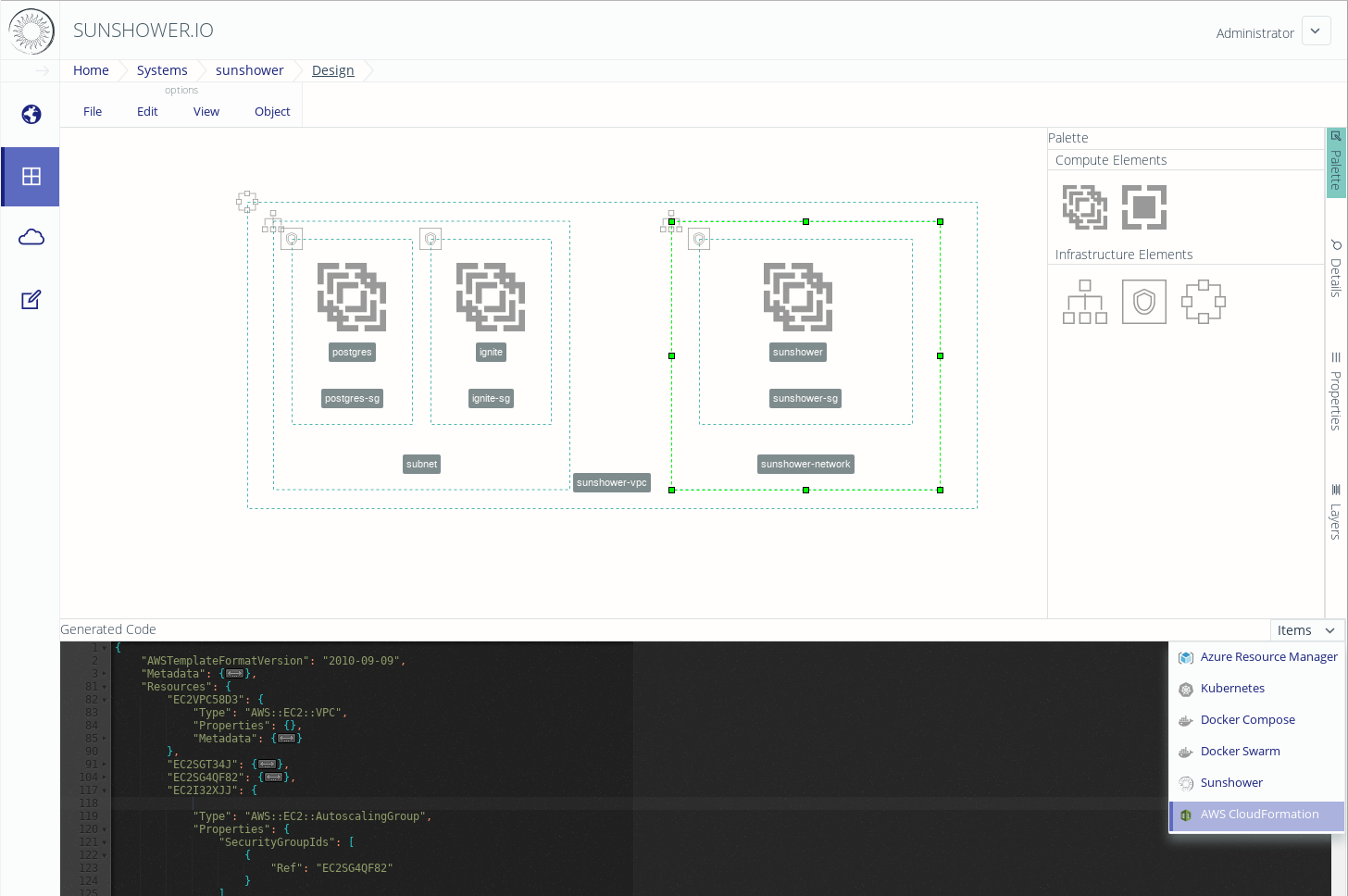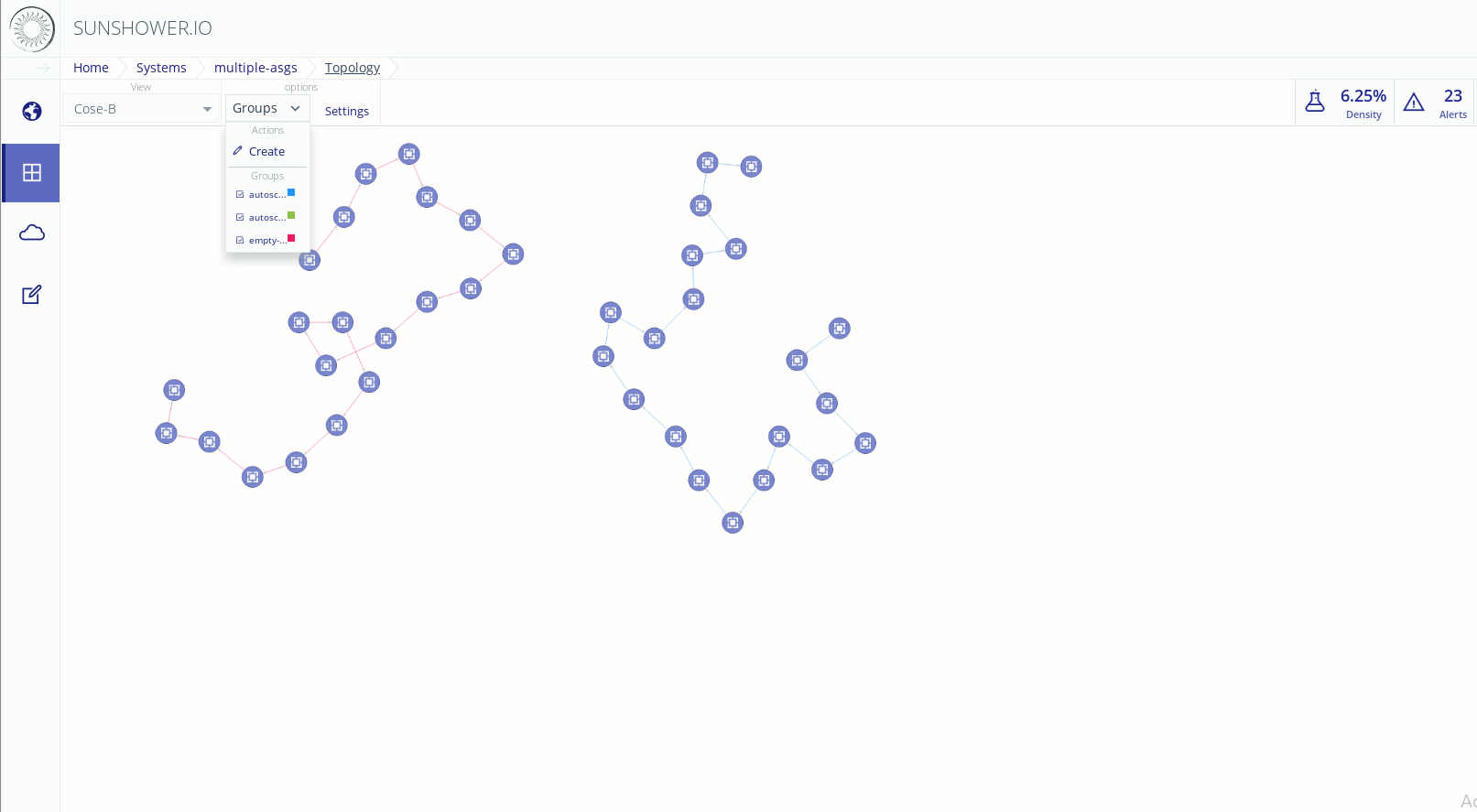 Stratosphere
high-level insights into any cloud
View and navigate the large-scale structure of your cloud infrastructure across all clouds
Effortlessly integrate, scale, and manage multiple cloud deployments
Organize resources by their meaning to you, not by which cloud hosts them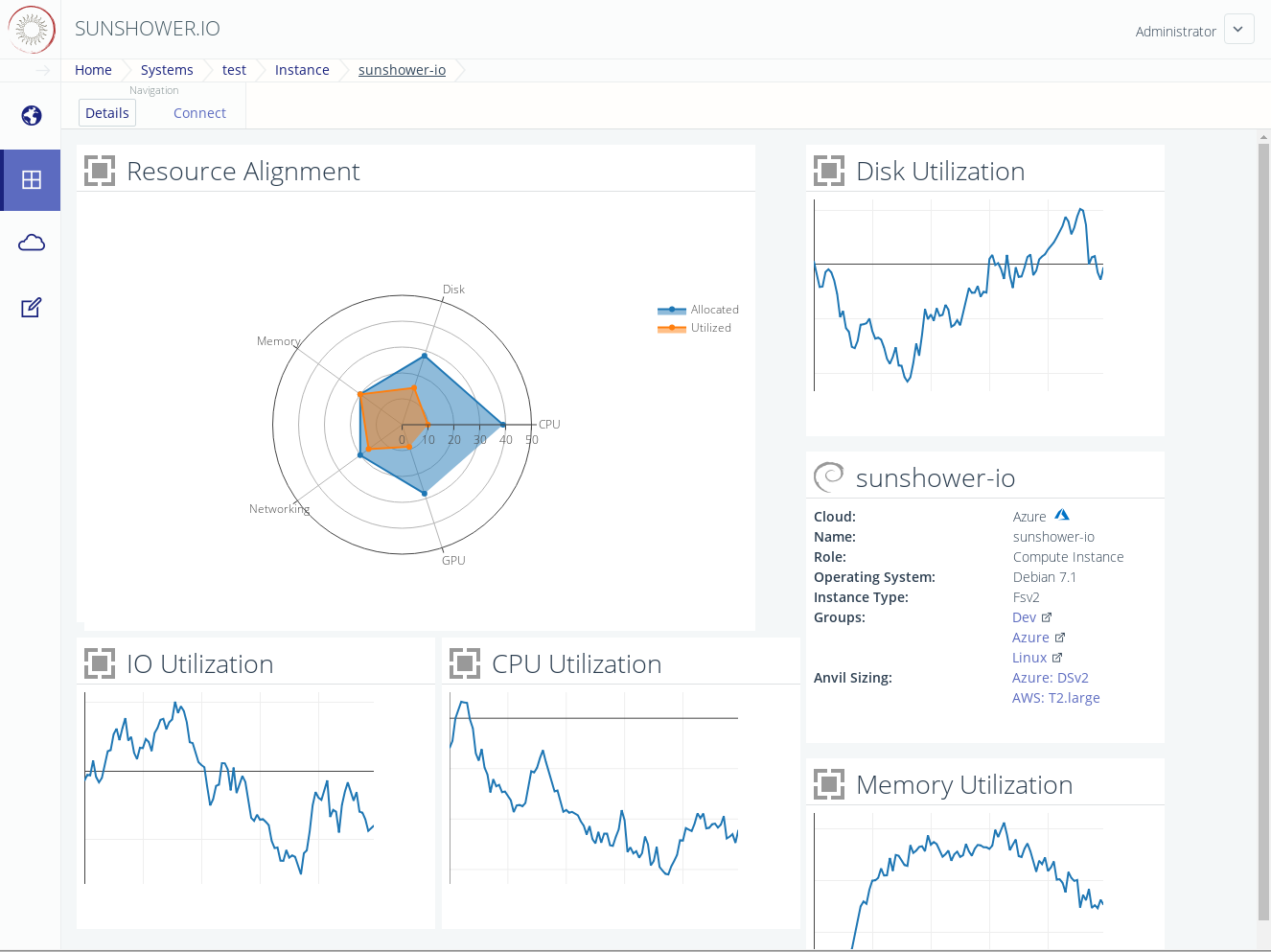 Anvil
do more work with less infrastructure
Substantially reduce costs by analyzing your workloads and right-sizing your infrastructure to host them
Scale out or scale back infrastructure based on historical trends or configurable periods
Determine the right cloud by calculating the cost of offloading your tasks to other cloud service providers
Is Sunshower right for you?
Yup. We've got you covered no matter the size of the clouds hanging over your head. Sunshower can help you custom craft the right approach to make your infrastructure powerful, flexible, and crazy functional.
Single User
Start your project on the right foot with informed decisions about cloud infrastructure.
Use our community-shared or authorized templates to get going in seconds.
Scaling Startup
Make meaningful decisions about your cloud strategy based on insights about your workload.
Easily grow within and across clouds as the needs of your business change.
Enterprise Company
Easily create plug-ins to diagnose and heal specific pain points in your organization.
Make sense of different environments and virtual private clouds.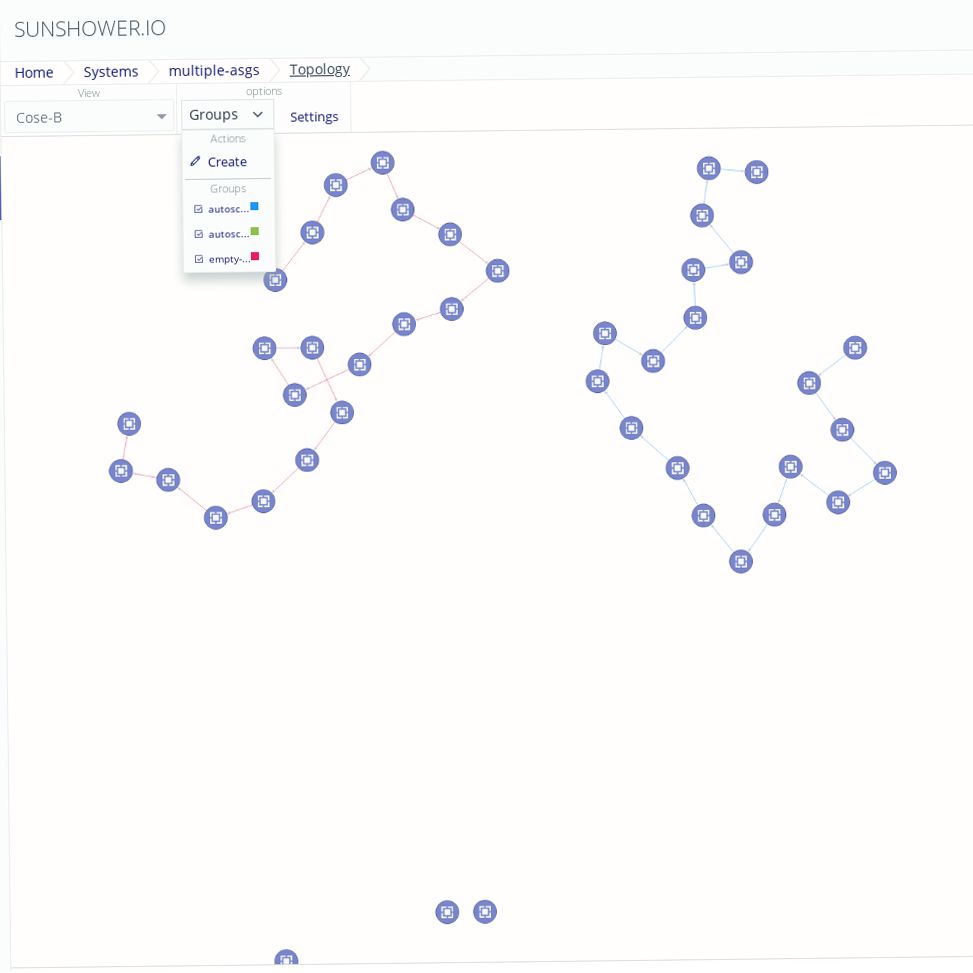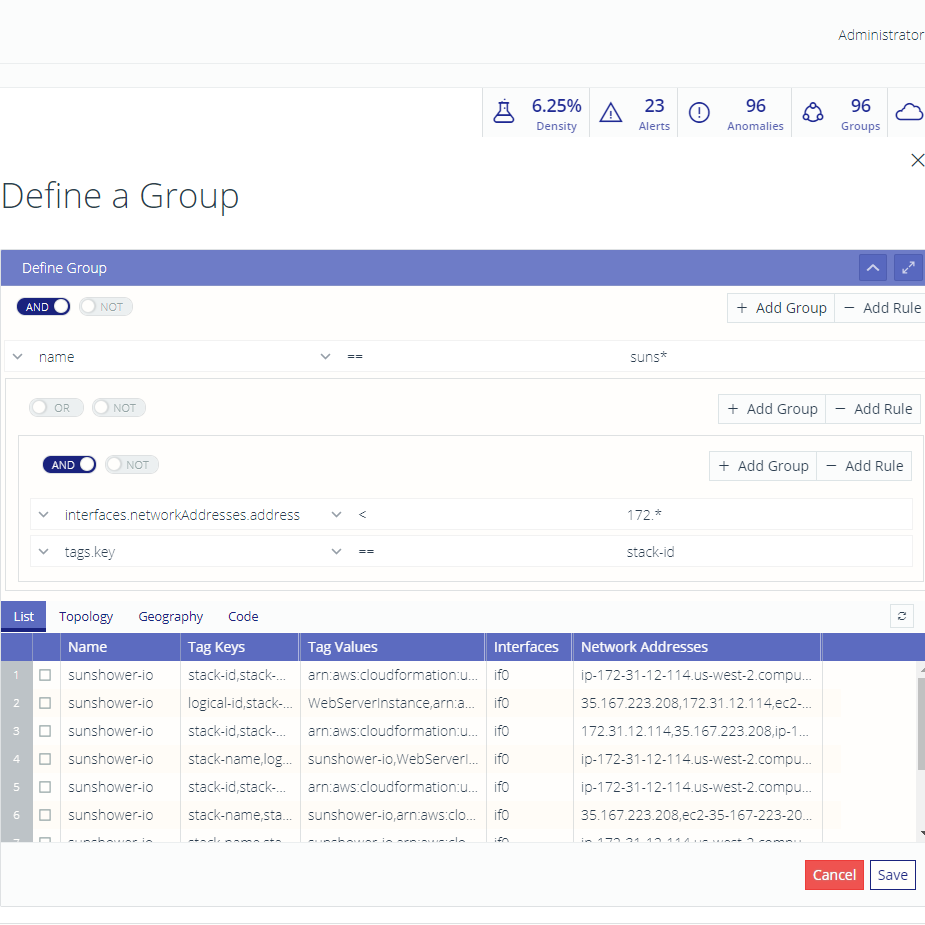 Grouping
Our grouping engine lets you collect any infrastructure across any cloud into intuitive groups based on name, tag, type and more.
Organizes infrastructure in the ways you understand it
View the relationships between groups, deploy applications to groups, determine optimal infrastructure required for group workloads, and manage access to groups
Execute commands across an entire group with a single click
Easily create fine-grained access policies across groups and users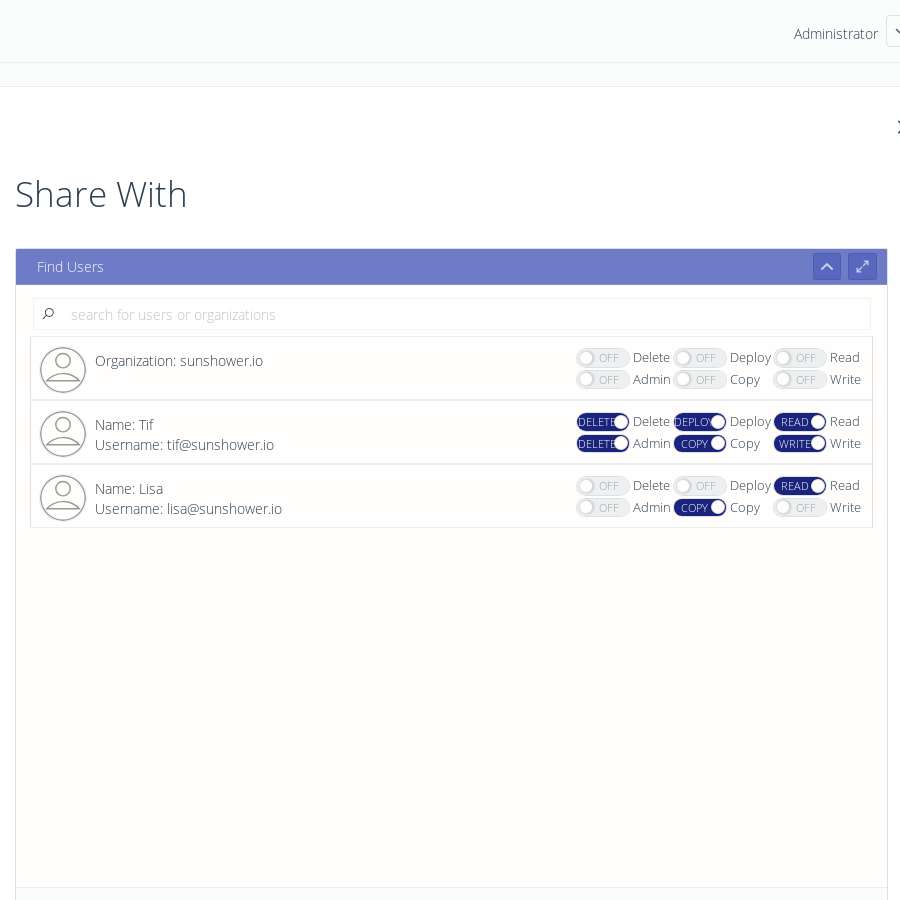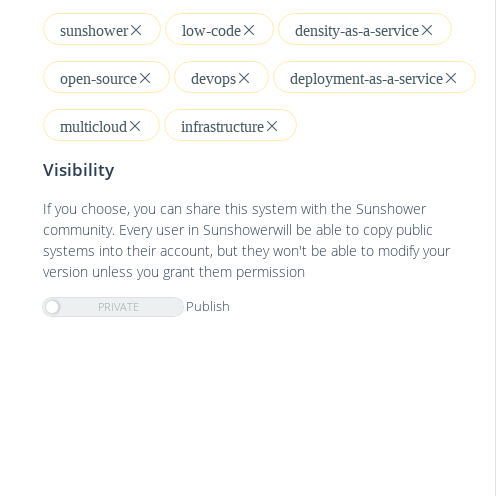 Security
We use state-of-the-art algorithms and best practices to keep you in control of your cloud at all times.
Built from the ground-up with security in mind
All encryption exceeds NIST standards
Uses Vault by Hashicorp to keep your credentials safe
Comprehensive vulnerability scans are run every release
Keeps the right people in control of your infrastructure
Your security policies can be enforced by role, group, or individual — on literally everything
Access is granted and revoked on a granular level, and any time something changes, you'll know it due to our comprehensive security auditing and reporting
More Features
Visual
See the entire cloud ecosystem mapped out in a clear, simple, and easy-to-understand visual landscape. It's so darn elegant, you'll wonder what you did before it.
Cloud-Native
Sunshower is built from the ground-up to scale with your organization. From single-users using our service to massive organizations deploying Sunshower on their own VPC, we can handle your case.
Enterprise-Grade
Need our rich, multi-cloud SDK? Managing tens of millions of infrastructure items? Need to deploy it to your own VPC? Is our plugin catalog missing something? Do you have your own tenants? Ask us about Enterprise Sunshower.
Developer-Approved
We still like writing code, but Sunshower's already making our own development processes easier.
Flexible
We don't have exactly the solution you need? No sweat. We'll write a plugin (or help you). Our team is fast, adaptable, and able to create what you need, when you need it.
Collaborative
You can share your biz with your coworker(s) and friend(s) or the entire Sunshower community. (Or keep it for yourself. We won't tell.)
Efficient
Find or design in seconds what used to take days to write. Unsure whether to use images or containers? Swap between them with a click of a button.
Clouds

Containers and Schedulers

Ready-To-Deploy Applications

Built With
Gimme Some Sun
Our SaaS offering is getting ready to launch.
Thanks for Signing Up!
We'll be in contact right away to schedule a demo!